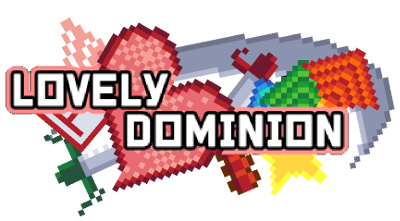 Lovely Dominion
A downloadable Lovely game for Windows, macOS, and Linux
Create your ships/pairs and take over Gensokyo with the power of love, and danmaku. Your ships relationship level will grow as you are more in combat, giving you the necessary buffs to create your lovely dominion over Gensokyo.
V1.1(Post-jam) ChangeLog:

Speedrun mode added, with online leaderboard (I just wanted to mess around with online leaderboards).
Controller support added.
Balance changes to LVL5 buffs/Certain characters/ Enemy lazers/Enemy health scaling.
Some minor bugfixes.
Some minor bug additions.
Content:
50 Characters to fight, bring to your side and ship.
4 phases of gameplay, with increasing difficulty.
3 Attack types and enemy resistances to play around.
2 Songs I made in like two hour.
Definitely a well balanced game and doesn't turn into a one-shot or be one-shot scenario.
Controls:

Arrows keys to move.
Z to shoot/menu stuff.
X to bomb/menu stuff.
SHIFT to dash (Makes you immune btw)
TAB/ESC for the character menus.
CNTRL to disjoint partner (not useful, neat tho)
Who did this:

Extra Notes:
I bet there's bugs I didn't find, notify me if you find any.
I haven't tested the mac/linux ports so don't know if it works
The story was kinda cut due to time.
Also, this a fangame, so Touhou and its characters belong to ZUN or team shanghai alice or something idk.